State superintendent document says top priority for spending federal COVID money will be Critical Race Theory-type programs, not student learning
Last week I reported that the State Superintendent had proposed a list of favored bureaucratic projects, like "equity and anti-racist training," "inclusionary practices," "trauma-informed practices," and "social and emotional learning" – all aspects of controversial Critical Race Training sessions – to be funded by federal COVID funds (ESSER I, II and III) meant for special needs children.  Parents of special needs children objected and said the money should be used for recovery and compensatory services to help students, as the federal government intended.
Not surprisingly the State Superintendent's office vigorously objected to this disclosure, saying the funding was going to districts for special needs program.  I have since learned this is a misleading dodge.
The State Superintendent document, "OSPI's Priorities for ESSER Funds," last modified June 25, 2020, lays out four priorities that school districts must follow.  [Here's the link, and because government websites have a habit of changing suddenly without warning, I've posted a screenshot below.]  As you can see, Priority One is spending on Critical Race Theory-type sessions.
See for yourself this screenshot from the website of the Office of Superintendent of Public Instruction: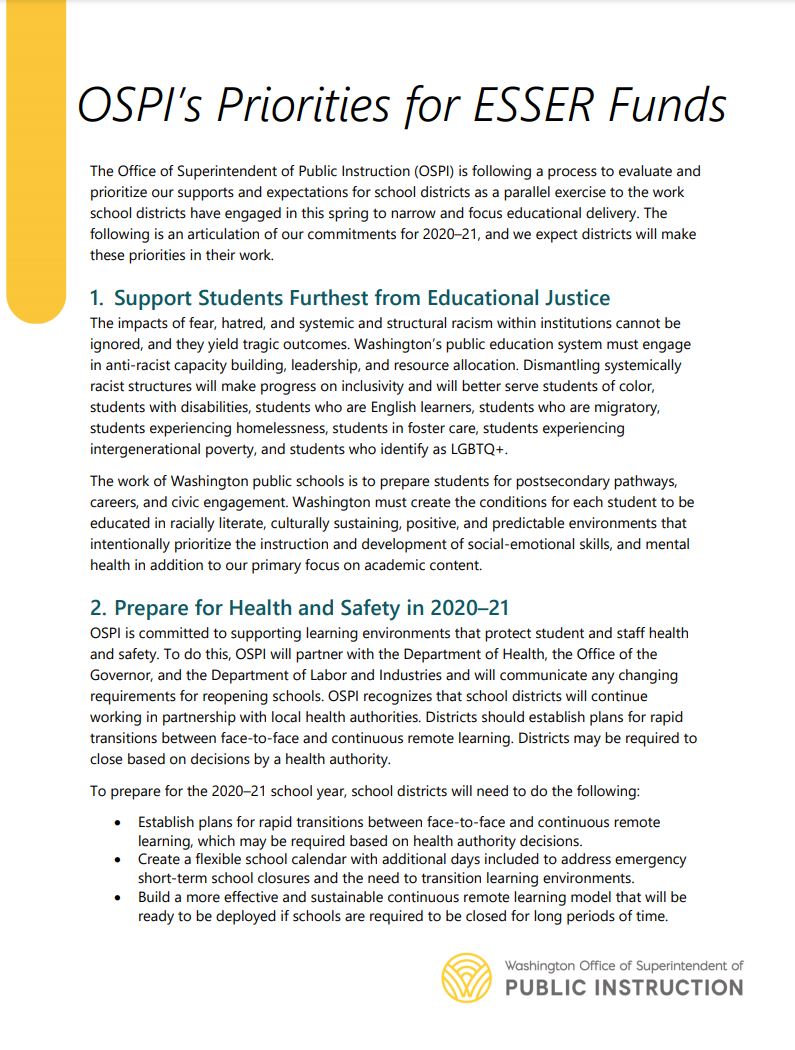 Phrases like "engaging in anti-racist capacity building" and "dismantling systemically racist structures" are code words for Critical Race Theory sessions.  The document also orders, "We expect districts will make these priorities in their work."
For school administrators, ending the systemic racism in the schools they operate should be a top priority, but they should not need extra federal funds to do it.
Washington's schools were 47th in the nation in reopening to in-person instruction.  Many districts are still not fully re-opened, and are only providing the bare minimum of 10 hours of in-person instruction a week.  Meanwhile, private schools and most charter public schools have been fully open for the whole school year.
Of course wealthy families in public education can adapt more easily to closed schools and ad-hoc online learning.  The children who are hit hardest by poor academics are special needs, low-income, black, Hispanic, and Native American students and their families.  The damage to their learning is enormous, and it is not yet fully known and quantified. One national research firm, McKinsey, finds the damage caused by closed schools is so large it means "a hurt that could last a lifetime."
After this devastating experience, the top priority use of federal COVID relief funds should be fully reopening the schools to in-person instruction, a focus on academics, and helping students recover from learning loss.  It is especially important for disadvantaged children to catch up academically to their peers in private and charter public schools. 
OSPI officials' efforts to end systematic racism in the public schools they oversee should not pull federal resources away from student learning.  The top priority of any school – especially a tax-funded, public one that is getting extra federal dollars – should be building student skills in reading, writing, math, science, literature, geography and civics, not promoting the divisive and harmful ideology of Critical Race Theory.   
Brendmoen, Noecker: There's a lot of money coming St. Paul's way. Here are guiding principles for spending it. – Twin Cities
President Biden's American Rescue Plan (ARP) is a once-in-a-generation, visionary reinvestment into our nation. The ARP is intended to accelerate the country's recovery from the impacts of the pandemic and the ongoing recession. As part of the plan, an unprecedented $172 million will come directly to the City of Saint Paul.
How we invest these dollars will be one of the most significant decisions we make for a long time. Used well, this funding can reconstruct both physical and social infrastructure. Used wisely, this funding will dovetail with and extend our many partners' ARP investments. Used strategically, this funding has the capacity to catalyze growth and, importantly, equalize prosperity in our community.
At our City Council meeting recently, Congresswoman Betty McCollum explained that, while federal spending guidelines are still being drafted, the dollars will be able to cover a wide range of expenses, directly or indirectly tied to the COVID-19 pandemic. So while it's too early to propose specific programs, we believe it's exactly the right time to commit to these general principles to guide us in making these important decisions.
We will focus on St. Paul.
Our investments must prioritize needs that no one else will meet.
While state and federal assistance is available for bridges, transit projects and regional assets like Como Zoo and Conservatory, it is up to us to maintain and improve our local roads, streetlights, libraries and recreation centers, neighborhood parks and civic buildings. And there is so much to do. We have nearly $60 million in deferred maintenance on our parks and recreation facilities, and every St. Paul resident can point to a missing tree, a pothole or a crumbling stairway that we simply haven't been able to fill or fix.
Our ARP dollars should prioritize these essential and expensive needs.
We will collaborate to make the best use of every dollar.
Ramsey County, St. Paul Public Schools and the State of Minnesota will also receive millions of ARP dollars. We must make our funding decisions in cooperation with them, making sure each entity covers its primary areas of responsibility and aligns with the others.
This will ensure that all spending is strategic, intentional and leverages the greatest combined outcomes.
We will make sure the benefits are shared equitably.
We must take advantage of this opportunity to invest in our communities of color and low-income neighborhoods at the scale necessary to address our unacceptable disparities in wealth, health, home ownership and education.
Every hire, every contract and every program decision must be made with the aim of ensuring every St. Paul resident the chance to contribute to and benefit from this opportunity to build a better city.
We will not create spending "tails."
Because this is a one-time allotment of money, it should be invested in one-time expenses.
We must resist the temptation to create expensive new programs that will become a strain on our local tax base or leave recipients in the lurch after the ARP expires.
Our investments will have lasting impact.
This may be one-time funding, but the community impact doesn't have to be short-lived. We can stretch these dollars to do the most good for the most people over the longest time horizon possible by leveraging multiple outcomes.
For example, a robust investment in our public infrastructure could also be a chance to build our future workforce through apprenticeships, employ artists to expand public art, increase our social capital through networks of community volunteers, and jumpstart our local economy.
Together, we can seize this remarkable moment and invest in a way that benefits all St. Paul residents today and for years to come.
Amy Brendmoen is president of the St. Paul City Council. She represents Ward 5 in the north-central part of the city, including parts of the Como, Payne-Phalen, North End and Railroad Island neighborhoods. Rebecca Noecker is vice president of the St. Paul City Council, representing Ward 2, which includes downtown and Lowertown, West Side, West Seventh, Summit Hill and Railroad Island neighborhhods.. 
Usher didn't use 'Ushbucks' to pay dancers, club says, amid social media allegations singer used fake money
Fox News Flash top entertainment and celebrity headlines are here. Check out what's clicking today in entertainment.
You've heard of bitcoin, now get ready for Ushbucks.
R&B singer Usher is getting flack on Twitter for allegedly using fake money with his own name and face on it at a strip club.
However, the club tells Page Six it's all a big misunderstanding.
Dubbed "Ushbucks" by one wag on the social media site, the cash, in denominations of $100, $20 and $1, was previously seen on Usher's official social media channels — stuffed in a see-through suitcase — on April 3.
The story began with a woman going by beel0ove on Instagram, who posted pics of the money to her private account Monday.
R&amp;B singer Usher is getting flack on Twitter for allegedly using fake money with his own name and face on it at a strip club.<br>
However, the club says it's all a big misunderstanding, and Usher did not use fake money.  (Photo by Paras Griffin/Getty Images)
A friend of hers then shared it, tagging both the strip club — Sapphire Las Vegas — and gossip site The Shade Room, who later posted it to their own Instagram. From there, the star's supposed attempt at usher-ing in his own form of currency quickly spread across social media, trending on Twitter by Monday afternoon.
However, reached for comment by Page Six via email, Sapphire's director of marketing, George M. Wilson, IV told us, "Usher was a true gentleman and a great guest at the club.
"He and his crew converted thousands of real dollars to tip the girls dancing on the stage," and "left a generous tip for the staff!"
"Apparently someone in his team left some Usher dollars on the floor to promote his Vegas residency," Wilson continued. "That is where it seems the confusion came in. But real actual cash was used for tips. We would love to host him again."
Usher, 42, announced a Las Vegas residency at Caesar's Palace — set to begin in July — in September. Ironically, his most recent post shows him wearing a bucket hat made out of $1 bills.
The singer has yet to weigh in on the burgeoning scandal publicly. His rep wasn't available for comment.
To read more from Page Six, click here.
Former Ald. Ricardo Munoz Indicted On Wire Fraud And Money Laundering Charges, Accused Of Using Money From Political Fund On Personal Expenses – CBS Chicago
CHICAGO (CBS) — A federal grand jury on Thursday indicted former Chicago Ald. Ricardo Munoz, accusing him of using money from a political fund on personal expenses.
A 16-count indictment was handed down Thursday in U.S. District Court. It claimed that while serving as alderman of the 22nd Ward, Munoz used money from a political action committee put together by the Chicago Progressive Reform Caucus, or CPRC, for assorted personal expenses.
These included $16,000 for a relative's college tuition, as well as jewelry, clothing, cellphones, vacations, tickets for a Los Angeles Kings hockey game, airline tickets, aerial sightseeing trips, skydiving excursions, and items from Lover's Lane – which was the only specific store mentioned.
The indictment claimed Munoz obtained the money through cash withdrawals and debit card purchases from the CPRC bank account, or by transferring money from the CPRC account to an account for another political fund he controlled called Citizens for Munoz, and then on to his personal checking account.
Munoz tried to conceal the fraud scheme by making false statements to the Illinois State Board of Elections and staff members and contractors for the CPRC, the indictment alleged.
The CPRC was a political organization made up of several aldermen in the City Council. Munoz – who served as an alderman from 1993 until 2019 – was its chairman and performed the duties of its treasurer.
Public officials are not legally allowed to receive payments from the CPRC for personal expenses, prosecutors pointed out.
Munoz, 56, is charged with 15 counts of wire fraud and one count of money laundering.
Munoz was appointed as alderman in 1993 by Mayor Richard M. Daley to replace Jesus "Chuy" Garcia, who at the time left the City Council for the Illinois Senate, and in 2018 was elected to the U.S. House of Representatives after eight years on the Cook County Board.
Munoz decided not to run for another term in 2019. Ald. Michael Rodriguez now represents the 22nd Ward.
In June 2019, Munoz was acquitted of a misdemeanor charge domestic battery. He had been arrested on Jan. 2 of that year after police said he got into a quarrel with his wife on New Year's Eve two days earlier, and shoved and hit her.
A month after the alleged incident, the Chicago Tribune reported Munoz's wife, Betty Torres Munoz, said she wanted to reconcile with her husband – calling him a "really good man" dealing with alcohol addiction.
The fraud and money laundering indictment against Munoz came the same day as Ald. Patrick Daley Thompson (11th) was indicted in a separate federal case tied to the collapse of a Bridgeport bank, accusing him of lying about loans he received from a failed bank in his ward.